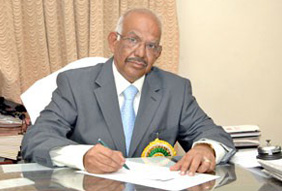 Mr. R.J.V.Bell, M.A, M.Ed., M.Phil.
Everybody has a vision. Very few, however realize it in their life time. Some visions reverberate with far reaching values, and strive to fulfil the needs of society. Similarly Mr.R.J.V.Bell, the founder of HMHSS is endowed with the vision of social leadership. His focus on uplifting the lives of rural youths through education found expression with the inception of the school in the year 1990.

Campus
Set in a sprawling campus under the foothills of the Western Ghats, the School caters to the educational needs of the local village, Ayiraperi, Old Courtallam, to the nearby villages and to students as far away from the state of Gujarat.

Friendly
Mr.R.J.V Bell is an educationist cum environmentalist in the sense that the whole campus is environment friendly. The grounds around the school have rare flora and a garden for medicinal plants. This sense for conservation is no doubt, the result of his early passion for plants and having done his undergraduate studies in Botany.

Devotion & Dedication
Today the school has a strength of about 2081 and has the necessary infrastructure to make education effective and worthwhile. His devotion and dedication to his words is reflected in his belief in discipline and holistic education. In an Age when even parents aspire only for merit in the world of meritocracy, Mr.R.J.V.Bell never sacrifices discipline on the altar of mere merit. Instead, the stakeholders are taught good values, trained in leadership qualities and instilled with a sense of service towards society and leave the institution fully equipped to make their next big step in life.

Recognition
As a Correspondent of an established institution he has got all around recognition and has received appreciation letters from the Govt. of Tamil Nadu every year for consistent cent percent results.